How To Hide An Instagram Story From One Person Or From Everybody – Guide
Functionality of the social network allows hiding Stories from all users whether they are followers or not. Remember that limiting access isn't blocking, the user still can see other content.
In addition, not only can you hide your Stories from others, Instagram also provides you the opportunity to make Stories of other users invisible to you. In this article we will tell you how to hide an Instagram story.
How To Hide An Instagram Story
The function of the visibility setting for Stories makes using Instagram more convenient. With its help you can manage profile privacy and get rid of unnecessary information. You can also set the lists of "warm audience" and post Stories to increase the percentage of sales. This function is useful for personal blogs as well as for business accounts.
Option 1. Provide access to your Stories for a small circle of people. Make a list of close friends, including those who are not your followers. You can adjust the list of close users, add and delete people at any time.
While posting a story, limit the visibility by choosing close friends. Story will be available for viewing to users from a previously configured list. Such Stories appear in a green circle, and also a green icon appears at the top right of the screen. You can send hidden content to Highlights, the access will be provided only for users from close friends list. Others will only be able to see an empty circle.
Option 2. Hide your Stories from certain people.
Click on the "Hide my story from" button in the Stories settings. Add users you want to limit access to content for to the list.
How to hide other users' Stories on Instagram.
Open the user's story, click on the menu button at the top right of a screen, then click "Hide".

Choose the type of content you want to hide.

To view the list of users whose Stories you have hidden, go to your privacy settings and find "hidden accounts" in the contacts section.
In case you don't know how to hide an online status on Instagram, follow the link to the article where we have compiled a guide on this topic.
Questions About Hidden Stories
Is there a way to hide Stories from all users except one?
Yes. To do that you need to add user to your close friends list and post Stories for this category.
How to find out that the user has limited your access to his Instagram Stories?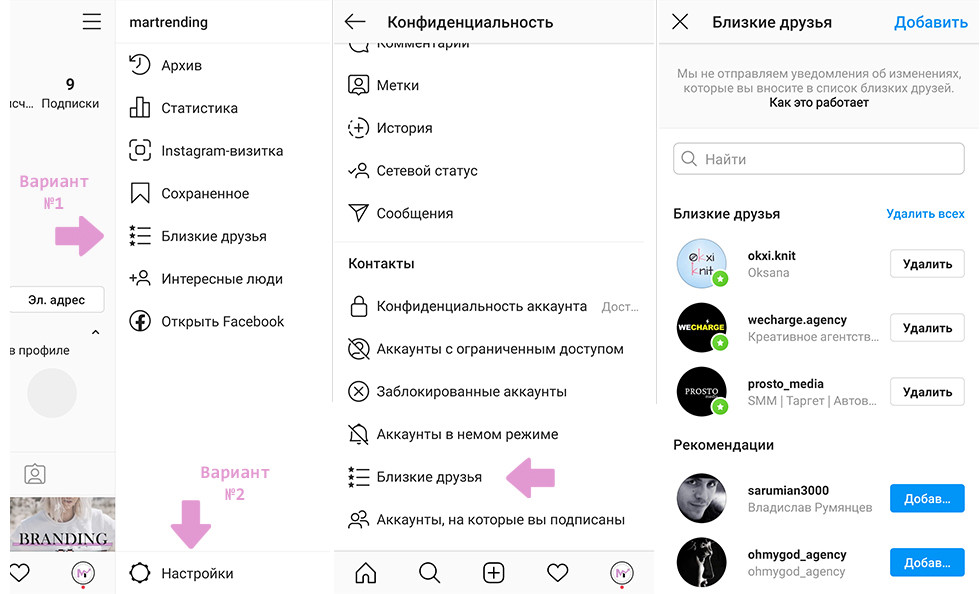 You won't be able to know this for sure as Instagram protects users' privacy and doesn't share information about it. You can only assume that you weren't added to the list of friends, if the user suddenly stopped posting Stories but the content is posted as often as always.
Meanwhile, the person has posted many Stories before, and now there isn't even one. You can find suggestions to view hidden Stories without SMS and registration on the Internet. Don't rush to use third party services, most often it is fraudulent websites.
How to hide a posted story from a certain person?
Open a story that you posted.

Select the "More" button at the bottom of the screen.

Go to story settings.

Add the user to the list of people you limit access to your Stories.
Do ads run on hidden Stories?
No, this function isn't available in Facebook Ads Manager Service.